Vision2konnect consulting believes in "Connecting Real Talent'' in the ever-evolving recruitment market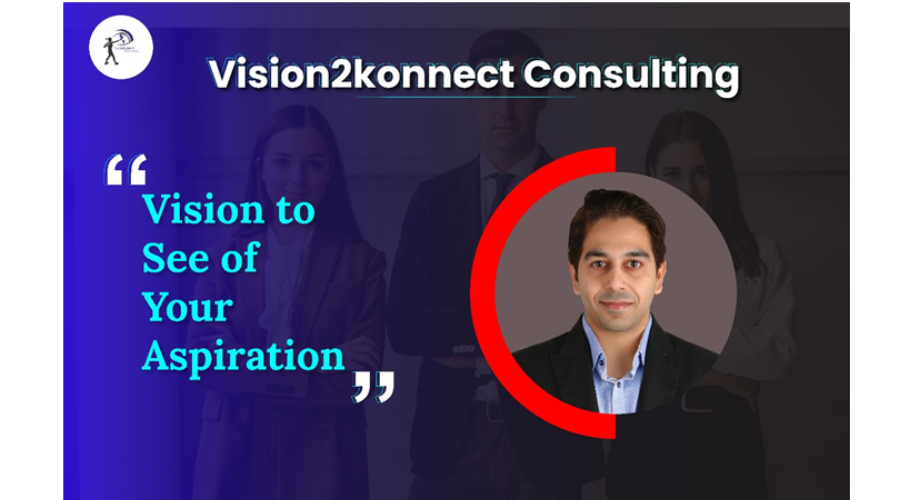 All about Vision2konnect Consulting
Started operations in 2012, Vision2Konnect consulting is a vibrant executive search consulting firm backed by cutting-edge technology, a proprietary database, and a hardworking team. The company aims to provide focused, reliable, and apt career opportunities to aspiring clients. 
As a fast-growing recruitment specialist believes in continuous growth in a competitive world where clients and candidates go hand in hand. 
We possess an ever-expanding database, client reach, expertise pool, and vigorous galore of contacts.
The firm's goodwill has led to acquiring leading clients in domestic and international on our panel. 
Vision2Konnect believes in value creation to increase the net worth of an organization through professional human asset acquisition and management. 
"Vision2konnect" came after the thought of connecting the aspirants to the right/suitable career opportunities in the corporate world. It simply means that we are in the business of connecting the right fit to the right role with a right organization.
 We believe that our client's faith in us is the most precious asset we possess. 
Our Services  
> Contingent Model – Pay per hire
> Executive Search
> Head Hunting
> International Hiring – APAC & UAE Region
> Retainer ship Model
> Project-based hiring
> Product based Tech start-up specialist
> Payroll outsourcing
What Problem is V2K solving in the recruitment space? 
Vision2konnect consulting comes with around 9 yrs of experience in serving their clients and giving them extended support in hiring.  We give access to our clients to hire potential talent/candidates from our own database or through the network which we have built over the years.
So to say – We offer at least 20 to 30% of unique candidates through our network & hiring techniques that are not available with other HR firms or are very rare in the market.
 Vision2konnect consulting helps their prestigious clients to hire well-screened quality talent which further adds to their revenue and growth.
So the above services that we offer to our clients may not be different but we position ourselves as one recruitment house / Human resource outsourcing 'UNIT' where the client is supported with all the required services together and does not need to tie up with several vendor partners in the market.
Challenges faced by Vision2Konnect Consulting
Our firm believes that challenge is a part of everyday operations. Tackling the challenges in the right way would advantage the organization in the long run. Challenges eventually keep us on the move and versatile enough to design a robust recruitment process along the way. 
The major obstacle today would be technological growth in the hiring sector. The exponential growth in IT / Product based companies in the last 2 years have led to 30-40% dropouts in the hiring structure. It takes a lot of blood & sweat to build an extensive pipeline. 
Funding
Vision2Konnect Consulting has been a bootstrapped organization since its inception. We believe in generating revenue on our own and using the same for expansion and robust growth in future. Hence, there are no future plans for raising funds as of now. But we cannot rule out the possibility of a merger or a collaboration.
Future plans
Vision2Konnect believes in connecting "Real Talent" in the ever-evolving recruitment market which eventually enhances customer-centric values by setting the highest standard of reliability and dedication. 
In today's super-competitive hiring environment, success is driven by speedy & robust technology systems. So we plan to in-sync human resource tech systems more deeply & extensively which will further help us perform our job more efficiently and provide a better employee experience.
It enables better business decision making by storing data in a safe manner, automating routine activities as well as providing analytics that produces management reports & insights.

Secondly , we are aggressively acquiring more clientele in various sectors like Information Technology; Product based technology organizations, Infrastructure & Solar Energy & Power.
We recently also tried our hands with the Government sector and wishes to continue in applying for more quality recruitment tenders and work with top-notch Government bodies PAN India.
We see a lot of potential in newly developed industries as well in our country.
About the founder 
I did my schooling from Modern School, New Delhi and further pursued BBA & MBA from the Indian institute of planning & management in New Delhi. I have always been a very passionate individual from the beginning and always aspired to be one of the youngest achievers by delivering high performance in all walks of life.
To add to my skills and knowledge, I also completed a course in "Recruitment management cycle" since I was very much inclined towards this practice from the very start of my career.
Professional experience 
I started my career with Timesjobs.com (An online job portal) in the year 2005 into sales. There I started interacting with the Recruitment firm owners for selling the database which would further help them search for the right candidates for their clients.
My interactions often use to happen with the recruiters while giving demo for the candidate database. That was when I started taking interest in the business & eventually floated my own venture – Vision2konnect Consulting soon after my corporate stint in the year 2012."
Actually my corporate career had curved the path to entrepreneurship.
I have always been very passionate about building or creating something on my own and scaling it up at the same time gives maximum happiness.
This whole experience gave me a lot of sense and it finally showed me the exact way to do the recruitment business.
Our motto to excel persistently with continuous growth opportunities helps us satisfy both our clients and candidates. We have passionately built our business model from scratch and plan to add multiple verticals in near future. 
Team members
Our dream of being one of the most reputed companies in the recruitment arena cannot be fulfilled without a hardworking team. The pandemic lockdown paved for a new way of working remotely at home. Though difficult at first, we have now learned to embrace this hybrid lifestyle. We further desire to grow our team and segregate them vertically for better focus. 
Now we have successfully implemented the hybrid working model for the future. Our business model consists of a lean team which is not at all resource-heavy and has minimal overheads.
To know more about Vision2konnect Consulting;-
Follow Vision2konnect Consulting At:
Company web page: www.vision2konnect.com
Follow Kanishk At:
LinkedIn – https://www.linkedin.com/in/kanishk-duggal-783ba31/
Follow Vision2konnect Consulting:
LinkedIn – https://www.linkedin.com/company/vision2konnect-consulting/about/?viewAsMember=true