August 18, 2022, Gurugram, Haryana – Special Chief Secretary (Retd.) Government of Haryana, Shri Sunil Gulati and Additional Chief Secretary (Retd.) Shri P. K. Mahapatra inaugurated the first DC fast Charger at Sector 58, Gurugram and the vicinity at Magnum Towers (Galaxy Magnum Group). The inauguration took place on Janamasthami with Mr. Pranav Poddar, Director, Galaxy Magnum Group duly highlighting that an association with Sahy was relevant as the development aspires to have the latest technology integrations.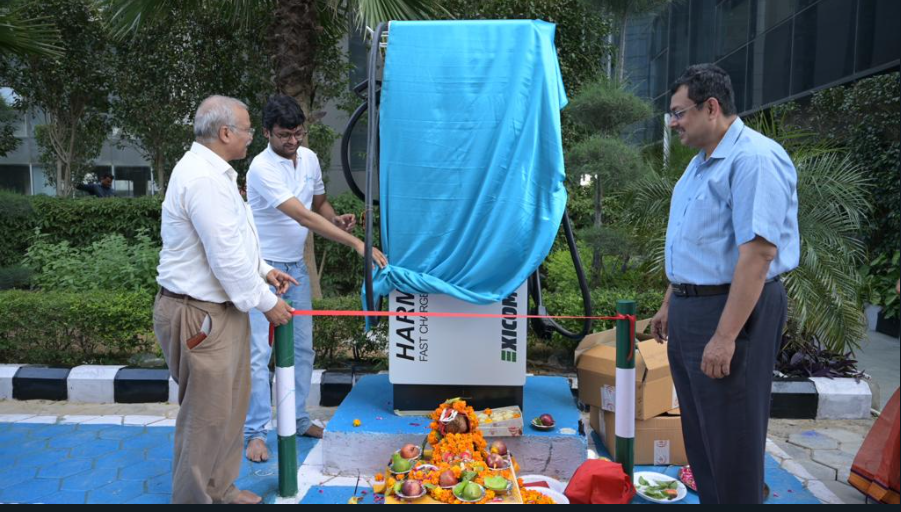 The team from Sahy enjoyed an interaction with Mr. Gulati, an M.Tech from IIT (Delhi) who explained various facets of electric motor technology. Mr. P. K. Mahapatra, now an advisor to the International Solar Energy Center briefed the young team from Sahy on how they can achieve their goal of making Sahy carbon neutral/negative by leveraging solar energy.
The unveiling of the charger was done by the Chief Guests after a prayer ceremony on the auspicious occasion with the founders Aseem Gupta, Chaitanya Sanghi and Saraubh Singh Chauhan. A MG ZS EV was charged to officially commission the fast charger.
"Sahy is an climapreneurial venture which will encourage the adoption of EV's and we hope the residential and commercial developments in the area see a spike due to availability of much needed infrastructure", Said Chaitanya Sanghi, Managing Director, Sahy Electric.
Magnum Towers now has dedicated EV charging for 2 and 3 wheeler EVs in their basement and 4 wheelers on the ground floor as per their agreement with Sahy which has assured of ramping up facilities with the increasing demand. The charging infrastructure is open for access to the occupants of the building and the general public shall also be allowed to use these chargers as the area lacks EV infrastructure and Magnum towers will be able to leverage this to increase traffic at their location.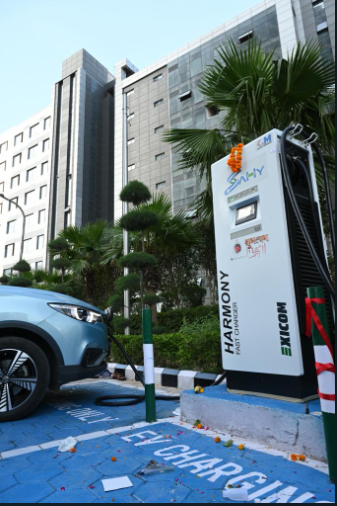 "The installation has invited great interest and instilled confidence in various stake holders. We are very excited about the contracts and installations that are lined up in the coming days." Said Aseem Gupta, Chief Everything Officer (C.Ev.O.) at Sahy.