OfBusiness: Transforming Indian SMEs through Innovative Solutions for Sustainable Growth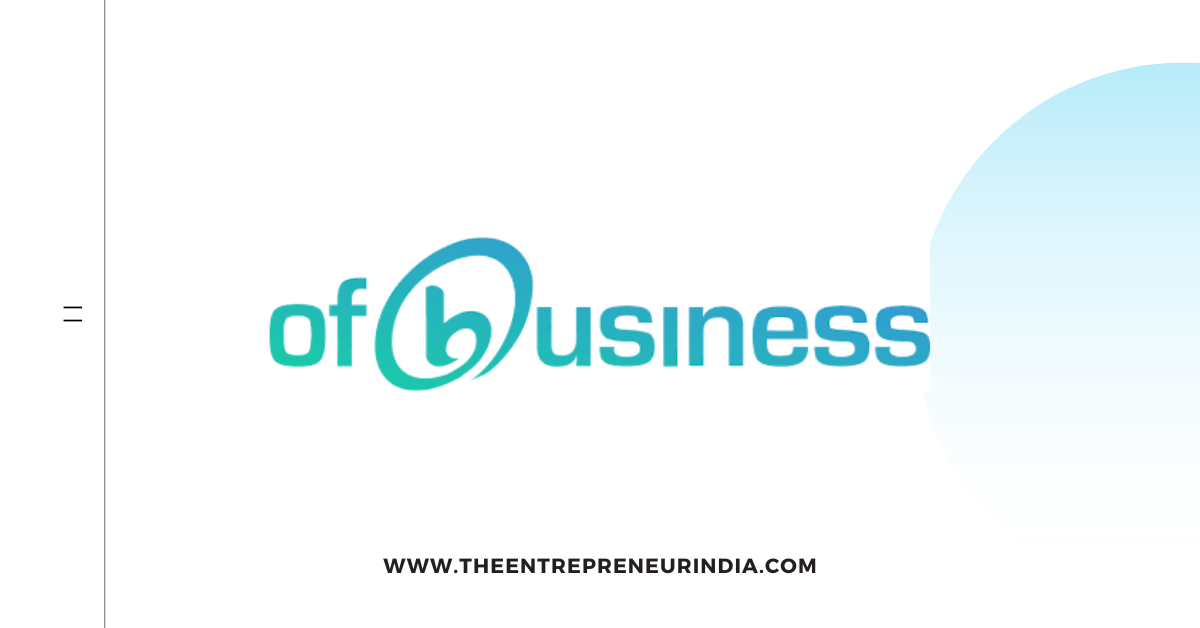 OfBusiness is an Indian startup that has rapidly emerged as a game-changer in the business-to-business (B2B) sector. With its mission to revolutionize how businesses in India procure and manage raw materials and capital goods, OfBusiness combines technology, finance, and supply chain expertise to provide comprehensive solutions that drive sustainable growth. Since its inception, OfBusiness has been committed to supporting small and medium-sized enterprises (SMEs) by offering a range of innovative products and services tailored to their unique requirements.
Certainly! Here's an overview of OfBusiness presented in tabular form:
| Name | OfBusiness |
| --- | --- |
| Founded | 2015 |
| Industry | E-commerce, B2B marketplace, Financial services |
| Headquarters | Gurgaon, Haryana, India |
| Founders | Asish Mohapatra, Ruchi Kalra, Bhuvan Gupta, Srinath Ramakkrushnan |
| Website | https://www.ofbusiness.com |
| Description | OfBusiness is an Indian B2B marketplace and financial services platform. It provides a wide range of products and services to businesses, including raw materials, industrial supplies, logistics, and financing solutions. OfBusiness leverages technology and data analytics to offer customized credit lines and supply chain financing to its customers. The platform aims to address the working capital and procurement needs of small and medium enterprises (SMEs) by simplifying the procurement process and providing access to affordable credit. Through its digital platform, OfBusiness connects buyers and sellers, optimizing supply chain efficiency and fostering business growth. |
Mission and Vision:
OfBusiness' mission is to empower Indian businesses with accessible and affordable financial and supply chain solutions, enabling them to grow sustainably. By leveraging technology, data analytics, and their deep understanding of the Indian market, the company aims to revolutionize the way businesses operate, optimize procurement, and access working capital. OfBusiness envisions becoming the go-to platform for businesses across India, delivering seamless and transformative experiences.
Key Products and Services:
OfBusiness offers a diverse range of products and services that cater to the specific needs of SMEs:
Raw Material Procurement: OfBusiness leverages its extensive network of suppliers to provide businesses with a reliable and cost-effective source of raw materials. By streamlining the procurement process, they help companies enhance their efficiency and reduce costs.
Supply Chain Finance: The company offers supply chain financing solutions to bridge the working capital gaps faced by businesses. By providing quick and flexible credit, OfBusiness empowers SMEs to meet their operational needs, enabling smooth business operations.
Invoice Discounting: OfBusiness provides invoice discounting services, enabling businesses to unlock working capital from their receivables. This solution helps SMEs improve cash flow and maintain a healthy financial position.
Unique Value Proposition:
OfBusiness stands out in the market due to its unique value proposition:
Integrated Platform: By combining procurement, finance, and technology on a single platform, OfBusiness provides end-to-end solutions, eliminating the need for businesses to rely on multiple vendors.
Technology-driven Approach: OfBusiness leverages advanced technologies such as artificial intelligence, machine learning, and data analytics to drive operational efficiency, mitigate risks, and provide personalized solutions to its customers.
Customer-Centricity: The company puts its customers at the forefront and continuously strives to understand their pain points. By providing customized solutions and excellent customer service, OfBusiness builds long-term partnerships with its clients.
Target Market:
OfBusiness primarily targets SMEs across various sectors in India. These businesses often face challenges related to procurement, working capital, and access to finance. By addressing these pain points, OfBusiness aims to empower SMEs and contribute to the growth of the Indian economy.
Notable Achievements:
OfBusiness has achieved significant milestones since its inception:
Rapid Growth: Within a few years of operation, OfBusiness has experienced remarkable growth, expanding its customer base and market presence across India.
Funding Success: The company has successfully raised substantial funding from prominent investors. These investments have enabled OfBusiness to enhance its technology infrastructure, expand its product portfolio, and drive customer acquisition.
Strategic Partnerships: OfBusiness has formed strategic partnerships with leading banks and financial institutions, enabling it to offer a broader range of financial products and services to its customers.
Founding Story, Team, and Company Culture:
OfBusiness was founded in [year] by a group of passionate entrepreneurs with a shared vision to transform the way businesses in India operate. The founders brought together their expertise in finance, technology, and supply chain management to create a holistic platform for SMEs.
The OfBusiness team comprises seasoned professionals with diverse backgrounds, including finance, technology, and operations. This multidisciplinary approach fosters innovation and collaboration, allowing the company to develop cutting-edge solutions.
The company culture at OfBusiness is characterized by agility, creativity, and a relentless focus on customer success. With an open and inclusive work environment, employees are encouraged to think outside the box, challenge the status quo, and drive positive change.
Growth Trajectory, Funding, Partnerships, and Future Plans:
OfBusiness has witnessed exponential growth since its inception. The company's focus on delivering value to SMEs and its ability to adapt to market dynamics have contributed to its success. The strategic partnerships formed with banks and financial institutions have expanded the company's product offerings, providing additional avenues for growth.
In terms of funding, OfBusiness has raised significant capital from both domestic and international investors, enabling it to scale its operations, invest in technology, and expand its market reach.
Looking ahead, OfBusiness aims to further strengthen its position in the market by deepening its customer relationships, expanding its product portfolio, and exploring new geographies. The company envisions leveraging emerging technologies to enhance its platform's capabilities and provide more sophisticated solutions to its customers.
OfBusiness has emerged as a trailblazer in the Indian startup ecosystem, redefining how SMEs in the country procure raw materials and manage their finances. By integrating technology, finance, and supply chain expertise, OfBusiness is empowering businesses to achieve sustainable growth. With its mission-driven approach, strong team, notable achievements, and strategic partnerships, OfBusiness is well-positioned to make a significant impact in the market and revolutionize the B2B landscape in India.
FAQ's
Q1: What is OfBusiness?
A1: OfBusiness is a technology-driven platform that provides financing and procurement solutions to businesses in India. It offers a range of services, including raw material procurement, unsecured business loans, working capital financing, and supply chain financing.
Q2: How does OfBusiness help businesses?
A2: OfBusiness helps businesses by streamlining their procurement process, providing access to competitive pricing for raw materials, and offering flexible financing options. It aims to reduce supply chain inefficiencies and provide financial solutions tailored to the specific needs of businesses.
Q3: What types of businesses does OfBusiness cater to?
A3: OfBusiness caters primarily to small and medium-sized enterprises (SMEs) in various industries, such as manufacturing, construction, infrastructure, and agriculture. It focuses on serving businesses that face challenges in procuring raw materials and accessing affordable financing.
Q4: How does OfBusiness ensure competitive pricing for raw materials?
A4: OfBusiness uses its extensive network of suppliers and manufacturers to negotiate competitive prices for raw materials. By aggregating demand from multiple businesses, it can achieve economies of scale and pass on the benefits to its customers.
Q5: What financing options does OfBusiness provide?
A5: OfBusiness offers unsecured business loans, working capital financing, and supply chain financing. The loans are designed to meet the specific requirements of businesses and are based on factors like creditworthiness, transaction history, and industry dynamics.
Q6: How does OfBusiness assess the creditworthiness of businesses?
A6: OfBusiness uses a combination of traditional and non-traditional data points to assess the creditworthiness of businesses. It considers factors such as the financial health of the business, its transaction history, industry trends, and the credit profile of its promoters.
Q7: Is OfBusiness a lending institution?
A7: OfBusiness is not a traditional lending institution like a bank. It acts as a facilitator, connecting businesses in need of financing with lenders who are willing to provide funds based on the creditworthiness and requirements of the businesses.
Q8: How can businesses apply for financing through OfBusiness?
A8: Businesses can apply for financing through OfBusiness by visiting their website or contacting their representatives. The application process typically involves providing relevant business and financial information, which is then evaluated to determine the loan eligibility.
Q9: Does OfBusiness operate only in specific regions of India?
A9: OfBusiness operates across India, serving businesses in various states and regions. However, the availability of specific services may vary depending on the location and the industry ecosystem in a particular area.
Q10: Is the data shared with OfBusiness secure and confidential?
A10: OfBusiness takes data security and confidentiality seriously. They have robust systems and protocols in place to ensure the protection of customer data. They adhere to strict privacy policies and comply with applicable data protection regulations
Also read
India's Burgeoning Unicorn Club: A Growing List of 108 Promising Startups