Meet Kanchan Bhadani: Entrepreneur Who Started LoopHoop in Her 60s, Empowering Women Through Crocheted Toys!
Meet Kanchan Bhadani, a Kolkata native who fell in love with the art of crocheting as a young child, inspired by her grandmother's talent!
JHUMRI TELAIYA, JHARKHAND – In a heartwarming tale of passion, determination, and empowerment, a 61-year-old entrepreneur has been providing employment opportunities to tribal women by harnessing their skills in crafting exquisite crochet toys.
Her venture, Loophoop, specializes in handcrafted crochet toys that not only bring joy to children but also transform the lives of the women who create them. Bhadani's deep-rooted connection with Jhumri Telaiya, a small town in Jharkhand, has fueled her passion to make a difference in the lives of underprivileged women.
Story of Kanchan Bhadani that started and changed lives of countless Tribal Women-
Bhadani's love affair with crocheting began during her childhood in Kolkata when she witnessed her grandmother skillfully crafting crochet toys. After her marriage in 1982, she moved to Jhumri Telaiya and continued to nurture her craft by creating various crochet items for her home, including toys, tablecloths, and decorative pieces. She even shared her knowledge with the women in her neighborhood, inspiring them to explore their creative potential.
Despite her burning desire to uplift the underprivileged, Bhadani found herself overwhelmed with household responsibilities, which temporarily put her social endeavors on hold. However, her dream of supporting women in need never wavered. It was not until 2021, when her children were settled and she had more time on her hands, that Bhadani decided to turn her passion into a business and breathe life into her long-cherished vision.
Capitalizing on her immense passion for crocheting and the admiration she received for her toy designs, Bhadani took the initiative to approach students in local schools, urging them to share information about Loophoop and her free crochet training programs with their mothers. Bhadani generously imparts her crochet skills to housewives and women from the tribal communities of Jhumri Telaiya, providing them with a valuable trade.
Workspace and Training:
The training typically takes around ten to fifteen days, allowing the women to sharpen their skills through dedicated practice. With her guidance, Bhadani has successfully trained approximately 50 women, with 25 of them currently employed at Loophoop.
The heart of Loophoop lies in a cozy 1,500-square-foot house, where the tribal women of Jhumri Telaiya gather five days a week to bring yarn to life. Meticulously selecting yarn based on color, texture, and thickness, these talented artisans deftly loop the thread around their nimble fingers, creating a symphony of interlocking stitches while paying attention to the tiniest of details.
To accommodate women who are unable to spend extended periods of time outside their homes, Loophoop operates two factories in Jharkhand. These women receive materials from Bhadani and produce the enchanting crochet toys in the comfort of their own surroundings. The women typically earn between Rs 4,000 and Rs 5,000 per month, their income dependent on the number of pieces they are able to create.
The culmination of their efforts manifests in the form of crochet toys infused with not only soft fillings but also boundless love—an amalgamation that brings uncontainable smiles to the faces of children who play with them. These creations are the result of the dedication and hard work of the women employed by Loophoop, a venture that represents much more than a business for Kanchan Bhadani. It is a beacon of hope, a means of uplifting the lives of women who have long yearned for opportunities.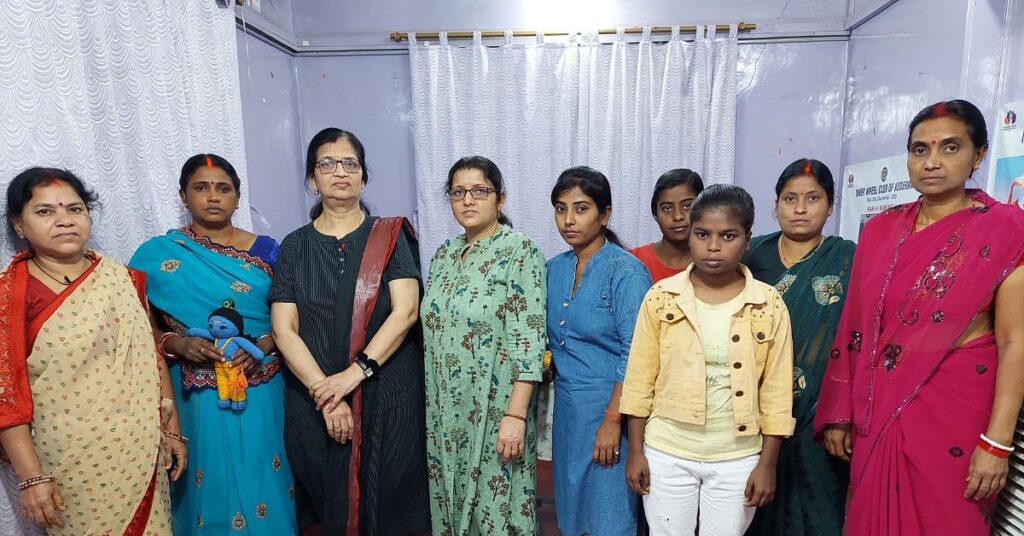 The town of Jhumri Telaiya faced significant challenges when the mica mining industry closed its doors many years ago, leaving countless individuals without employment and struggling to make ends meet. Bhadani, with her unwavering commitment to the community, has emerged as a symbol of hope for these women. Loophoop not only serves as a platform for economic empowerment but also instills a sense of purpose and optimism in the lives of these women who once faced an uncertain future.
Kanchan Bhadani's remarkable journey, fueled by her passion for crocheting and her desire to make a positive impact, is an inspiration to us all. Through Loophoop, she has not only transformed the lives of tribal women but also created a ripple effect of hope and opportunity in Jhumri Telaiya.As the delicate threads of crochet intertwine, they weave a story of resilience, creativity, and the power of one individual to bring about meaningful change in the lives of many.
.
Do you want your story to be represented by us? The Entrepreneur India covers the news and story of inspiring and budding entrepreneurs. You can send us your journey at [email protected] and we will try to cover you.
Stay updated with the latest in the startup world through our Startup News and Funding Alert. Sections. Explore Founder Profiles, Startup Profile, Founders Interview, Success Stories. In-depth Insights articles, Resources, and How to. Follow us on Facebook, Twitter, Instagram and LinkedIn for regular updates.
Note: We at
The Entrepreneur india
takes our ethics seriously. More information about it can be found
here
.