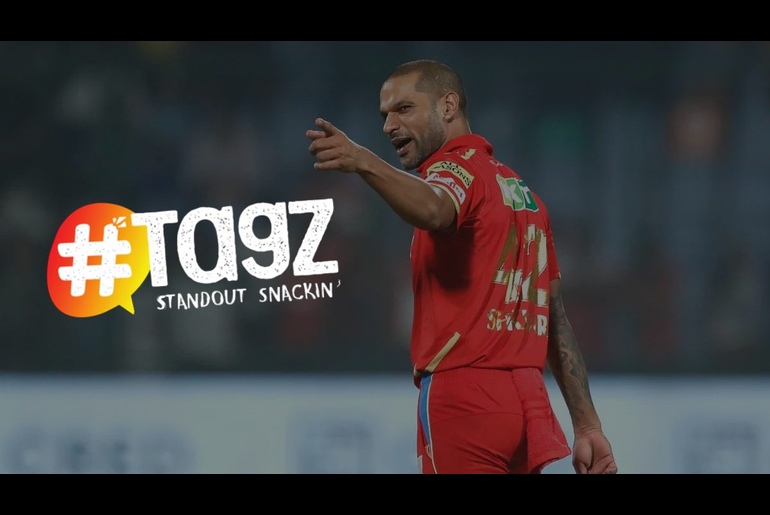 "Fueling Growth and Taste Sensations: Shikhar Dhawan Joins TagZ Foods in an Exciting Partnership!"
Dive into the exciting partnership between Indian cricketer Shikhar Dhawan and omnichannel snack brand TagZ Foods. Explore the implications of Dhawan's investment and role as brand ambassador, and analyze how this collaboration aims to leverage his influence and appeal among young consumers to scale the TagZ brand. Discuss the growth trajectory of TagZ Foods, their product offerings, and distribution channels, while highlighting the significance of this investment in the context of the booming direct-to-consumer (D2C) ecosystem in India. Lastly, explore the potential impact of this partnership on TagZ Foods' market expansion and the broader consumer landscape in the country.
Indian cricketer Shikhar Dhawan has recently made an undisclosed investment in TagZ Foods, an innovative omnichannel snack brand. In addition to his financial backing, Dhawan will also take on the role of brand ambassador for the startup. This strategic partnership aims to leverage Dhawan's influential persona and appeal, particularly among young consumers, to propel the growth and reach of the TagZ brand.
TagZ Foods, founded in 2019 by Anish Basu Roy and Sagar Bhalotia, offers a delectable range of popped potato chips, gourmet dips, and cookies. The startup sells its products through multiple channels, including its own website, quick commerce platforms, and offline retail stores. By collaborating with Dhawan, TagZ Foods intends to create compelling advertising campaigns that effectively connect with a broader customer base, driving brand awareness and growth.
Expressing his enthusiasm for joining TagZ Foods' journey, Dhawan emphasized the importance of making healthier dietary choices and leading an active lifestyle. As a sportsman renowned for his own active pursuits, Dhawan's dual role as an investor and brand ambassador reflects a profound and long-term commitment to the company.
This investment comes on the heels of TagZ Foods' successful pre-Series A funding round, which raised $2 million with 9 Unicorns leading the investment. In 2020, the startup had already secured $1.2 million in seed funding from a group of angel investors. With support from prominent backers such as Dexter Angels, Agility Ventures, Venture Catalysts, Klub, and Indifi, TagZ Foods competes with other snack brands like Happilo and Nourish You.
TagZ Foods has experienced remarkable growth, achieving a staggering 30-fold increase in sales volumes over the past 1.5 years. Currently, the brand's diverse product range is available in 5,000 stores across 22 cities, in addition to being accessible through quick commerce platforms like Swiggy Instamart and Zepto. The company has also made significant strides in international markets, expanding its presence to Kuwait, Dubai, Maldives, and Australia.
Dhawan's investment shines a spotlight on the surging interest in direct-to-consumer (D2C) brands, particularly within the food and beverage sector. As more Indians embrace online shopping and explore the digital landscape, the D2C ecosystem is poised for unprecedented growth. By 2030, India is projected to have an astounding 500 million online shoppers, presenting a staggering $400 billion opportunity for the thriving homegrown e-commerce market. This exponential growth has captured the attention of investors, leading to a surge in funding for D2C startups.
The partnership forged between Shikhar Dhawan and TagZ Foods not only fortifies the brand's position in the market but also underscores the immense potential of the D2C ecosystem within India's evolving consumer landscape. With Dhawan's support, TagZ Foods is well-equipped to expand its market presence, enhance brand recognition, and cater to the evolving preferences of discerning consumers.
The partnership between Dhawan and TagZ Foods holds great promise for the future. It not only strengthens the brand's position but also serves as a testament to the immense potential of D2C brands in India's consumer landscape. With Dhawan's support, TagZ Foods is well-positioned to further expand its market presence, enhance brand recognition, and meet the evolving preferences of discerning consumers.
As TagZ Foods continues its journey, leveraging Dhawan's influence and focusing on delivering innovative and delicious snacks, the brand is set to make waves in the snack industry. By combining their strengths, TagZ Foods and Shikhar Dhawan are poised to leave a lasting impact on the Indian market, offering consumers a delightful snacking experience and solidifying the potential of the D2C ecosystem.