"Apple's Spectacular Unveiling: A Glimpse into the Future of Personal Technology at WWDC 2023"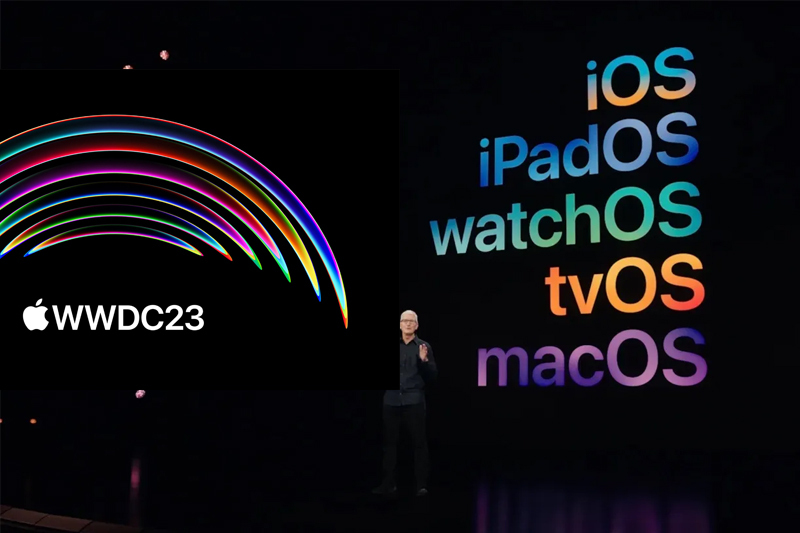 The global audience was left in awe as Apple unveiled its groundbreaking inventions at the highly anticipated WWDC 2023 event. Attendees were treated to a mesmerizing spectacle that pushed the boundaries of technology, igniting the imaginations of even the most skeptical minds. With an unwavering focus on machine learning, transformer models, and virtual reality, Apple once again proved its unrivaled ability to redefine the future of personal technology.
At the forefront of the event stood Apple Vision Pro, an augmented reality headset that seamlessly merges the realms of the real and the digital. Tim Cook, the visionary CEO of Apple, introduced Vision Pro as the next frontier in spatial computing. This extraordinary device empowers users to interact with digital content as if it were part of their physical space, effortlessly employing their eyes, hands, and voice as natural and intuitive tools. With the ability to use apps anywhere and resize them at will, the surrounding environment transforms into an infinite canvas of immersive experiences, opening a world of endless possibilities.
Alongside Vision Pro, Apple unveiled the highly anticipated M2 Ultra chip, an expansion of its renowned M2 chip family. This powerhouse chip propels Mac performance to unparalleled heights, thanks to its revolutionary Ultra fusion architecture and collaboration with the M2 Max die. Boasting a 24-core CPU that doubles the performance of its predecessor and a 76-core GPU that achieves a remarkable 30% speed increase, the M2 Ultra chip sets a new gold standard for handling machine learning workloads, effortlessly surpassing other chips available in the market. With its 32-core neural engine and an impressive 192 gigabytes of unified memory, it heralds a new era of computational capabilities, fueling innovation like never before.
In the realm of software, Apple introduced iOS 17, the latest software update that brings significant enhancements to keyboard intelligence. Autocorrect now harnesses the power of on-device machine learning, incorporating a cutting-edge transformer language model that remarkably improves word prediction accuracy. Dictation receives a remarkable upgrade, leveraging a transformer-based speech recognition model for even more precise and flawless results.
Furthermore, macOS Sonoma, the newest version of Apple's desktop operating system, revolutionizes user experience with dynamically adjustable widgets. These widgets adapt seamlessly to user behavior, enhancing overall usability and satisfaction. In a groundbreaking move, Apple empowers Mac users to delve into the world of gaming with Game Mode and a game porting toolkit, enabling developers to efficiently bring their games to a wider audience. With privacy prioritization and the introduction of web apps for faster access to favorite websites, Safari updates reaffirm Apple's commitment to delivering exceptional browsing experiences.
Apple's commitment to audio excellence shines through the AirPods Pro, which now feature Adaptive Audio. This groundbreaking technology delivers a personalized audio experience that adapts seamlessly to the surrounding conditions. The Conversation Awareness feature intelligently lowers audio volume when users start speaking, fostering enhanced and meaningful interactions with others. Furthermore, the Apple Health app expands its reach to the iPad, offering users convenient access to their health data across Apple devices and compatible third-party apps and devices, empowering individuals to take control of their well-being.
In the realm of wearables, WatchOS 10 introduces new widgets and places a strong emphasis on mental health. Apple Watch users can now effortlessly track their mood and screen time, providing valuable insights for personal growth and self-care. Notably, the upcoming Journal app aims to help users reflect on and relive special moments, offering personalized suggestions based on various aspects of their day, making each moment truly unforgettable.
With its mind-blowing innovations, Apple has yet again raised the bar and solidified its unchallenged position as a leader in the tech industry. The future of personal technology has never looked more exciting, promising a universe of infinite possibilities waiting to be explored and experienced.