Aditi Parnaik Sharma- Mrs World International 2022 finalist for whom interests know no bounds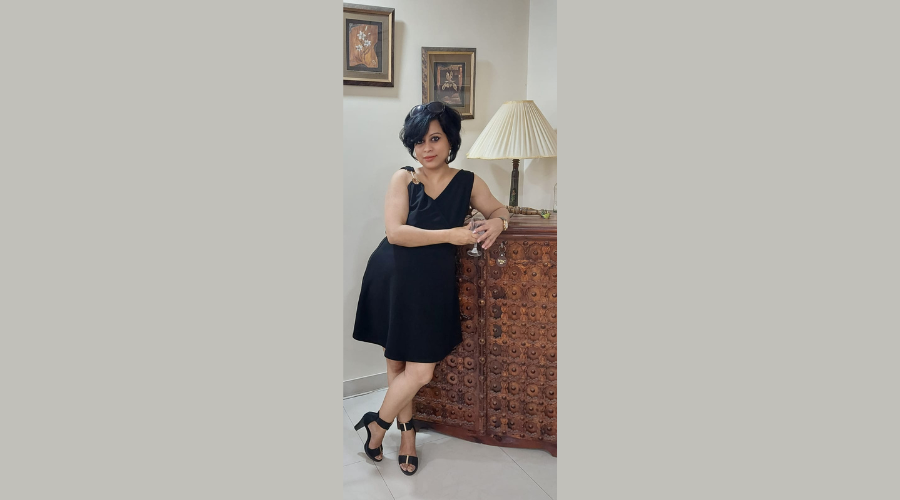 Born in Gwalior, Madhya Pradesh in the year 1980, in an Army family, Aditi always knew she would do something to make her existence meaningful. Her purpose of life has always been helping the world in her own special way and making the ones around her, happy.
She chose to be a Mindfulness Expert, a Life- Coach, a Neurolinguistic programming Practioner, an Actor, a Writer, and also an ardent believer of the fact that everyone has a little bit of Magic! Hence, one must unleash this Magic and conquer the world, as soon as he realizes it!!
After all, life is short & time is running out so if you have a bucket list up your sleeve, just start ticking it off to make the most of your existence!
She recently got selected as a Finalist at the all-time-favorite and admired pagent- MrsWorldInternational 2022. She said the experience that she gained by way of participating in the same, gave her immense confidence as well as knowledge of how the fashion industry functions. With the renowned movers and shakers of the showbiz, taking sessions for all the hundred and eight participants for the five days they were at the JW Marriott, she thought she had the time of her life, learning excellent lessons that will sure last a lifetime.
Her family, including both her sons ( Parth,15 years, and Arshabh, 11) are extremely talented and always love to see her indulge in something new every now and then.
The love, support, and guidance of her family, friends, and kids, in particular, gives Aditi the drive to achieve every dream or aim in life that she has forever wished for, without the slightest hesitation.
Aditi also won the Prestigious Army Wives Welfare Award for looking after the well-being, safety, and security of the ladies in her area of responsibility during the difficult covid era.
These ladies had their husbands away on the front protecting the nation while they were in Pune, all by themselves ( Gurudwara Road officers enclave) It was there that Aditi, in every which way, took care to keep them happy.
She used to organize online events during those lockdown times and try making everyone smile by appreciating them for their respective achievements while participating in the above.
For her, the comfort, health, and happiness of society has perpetually been of utmost importance.
She also handled some extremely sensitive marital discord as well as transgender-related issues which gave her the courage to look beyond her own hassles in life, by making her strong, positive & steady!
Aditi wishes to be a Councelor and help the world live a better life.
"If I could do anything to bring about a smile on the faces of the ones in distress, I would consider my existence meaningful & complete."
She also wishes to "write" more in the future about her experiences that will help others to understand how beautiful life is and that it's never too late to live your dream.
Being a housewife could be extremely important but at the same time following your passion by striking a balance between home & your interests will take you far ahead in terms of understanding your capabilities and potential. There is nothing that is impossible or difficult to achieve. If you are determined with the grit and focus in line, everything will come to you in the right order.
So, wait no more and START YOUR SCORE TODAY!
Aditi has written a book on her experiences of how she chased her Acting dream while she was married, with both her sons, and achieved quite a bit, in the bargain.
Try reading it to know that there is nothing that one can't do if he or she really wishes to. It's all in the mind, hence, push it ahead and you will get there within no time at all.
Her book is on Amazon and it's called, "She started at 34″…
Aditi also wishes to continue her acting and voice-over work. In fact, one of her voice- over Ads released in four different countries abroad while the other was for the NCL, Pune.
Apart, from the aforementioned, she has acted on the television as well as in film festival movies and has really enjoyed her time facing the camera, to the hilt.
After the pagent, she wishes to climb high and go into the mountains. Aditi mentioned her love for adventure and she plans to go for the basic as well as the advance mountaineering course at the renowned Nehru Institute of Mountaineering, in 2023. As she has already completed her level 1, adventure course she will begin with the basic this time.
We wish dear Aditi all the very best in her future endeavors. It is people like her who inspire the married women to come out of their comfort zones and achieve great heights.