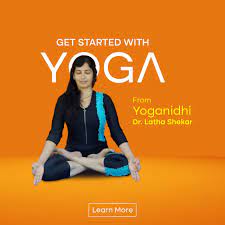 In recent times, there has been a surge of interest in cosmic healing, yoga therapy, and mudra therapy. Among the prominent names in this realm, Yoganidhi Dr. Lathashekhar stands out as a devoted proponent of Prakruti Chikitsa and Yogic Living. Hailing from a farming family and raised in the quaint village of Arehalli near Sringeri, Karnataka, her deep-rooted passion for yoga led her on an extraordinary journey.
Dr. Lathashekhar's journey in the field of yoga began with intensive training, honing her skills to perfection. She showcased her exceptional talent by participating in numerous platforms, winning accolades and admiration. Her remarkable achievements include securing gold medals five times at the international level, five times at the national level, and an astounding fourteen times at the state level yoga competitions. Through her dedication and expertise, she has earned a distinguished reputation as a highly accomplished Yoga Therapist and a sought-after Yoga Instructor.
Despite receiving extensive recognition for her talent, Dr. Lathashekhar was determined not to rest on her laurels. She realized that her capabilities had a much broader purpose, and she aspired to achieve something even more significant. Witnessing the suffering of individuals afflicted with chronic diseases and ailments, she resolved to bring new hope and a better life to such individuals. Thus, she embarked on the path of yoga therapy as her life's calling.
Through her compelling yoga dance performances, authorship of popular books like Mudrasanjeevini and Yogasanjeevini, and appearances on various television shows, Dr. Lathashekhar has tirelessly strived to generate interest and raise awareness about Yogic Living and Prakruti Chikitsa. Her efforts have captivated audiences and kindled a desire for a holistic approach to healing and well-being.
Dr. Lathashekhar's journey is characterized by unwavering commitment and a genuine passion for her craft. Her mission is to empower individuals to embrace the transformative power of yoga and embrace a harmonious connection with nature. With her expertise and unwavering dedication, she continues to make significant contributions to the field of yoga therapy, leaving an indelible impact on the lives of countless individuals.
As Yoganidhi Dr. Lathashekhar continues to inspire and guide others towards a path of holistic healing, her journey serves as a shining example of how one individual's determination can create a profound impact on the well-being of others.