Scapia Secures $9 Million in Seed Funding from Matrix Partners, Tanglin Venture Partners, and Binny Bansal's 3STATE Ventures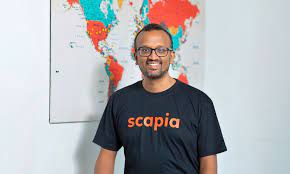 In a significant show of confidence, credit card and travel rewards platform Scapia has successfully raised $9 million in a seed funding round led by Matrix Partners India, alongside participation from Tanglin Venture Partners and Binny Bansal's 3STATE Ventures. Notably, this marks the second time that these investment firms have placed their bets on Anil Goteti's latest venture, a former Senior Vice President at the renowned e-commerce giant, Flipkart. The trio had previously backed Goteti's initial venture, Protonn, which unfortunately ceased operations within a year of securing funding.
Joining the list of contributors to Scapia's seed funding are prominent angel investors, including Keki Mistry, CEO of HDFC Ltd. The capital infusion comes at a crucial time for the consumer tech veteran Goteti, as he aims to scale operations and invest in cutting-edge technology capabilities.
Recently, the Bengaluru-based startup made headlines by launching a co-branded digital credit card tailored for travelers in collaboration with the Federal Bank. The in-house application empowers customers to keep a close eye on their credit card spending and provides them with coins on transactions that can be redeemed for hotel and flight bookings within the same app.
Scapia's revenue streams are primarily derived from its co-branded partnership with the Federal Bank, leveraging a revenue-sharing agreement, and fees from partner brands on bookings. The startup's unique approach to enhancing travel experiences through a fintech suite of products caught the attention of seasoned investors who see massive potential in this space.
Vikram Vaidyanathan, Managing Director of Matrix India, expressed his excitement about backing Anil Goteti for the second time as he embarks on a new entrepreneurial journey with the Scapia team. Vaidyanathan highlighted that Scapia's innovative business model, bridging the fintech and travel sectors, has the potential to create seamless user experiences for travelers while tapping into a market with immense growth prospects.
Vaidyanathan further emphasized the vast opportunity lying ahead for Scapia in India, with less than 5% of the population currently owning credit cards. The country is projected to witness a surge of 200 million credit cards in circulation by 2030, indicating a promising future for fintech companies operating in this domain.
Scapia's successful seed funding round not only underscores the confidence placed in Anil Goteti's vision but also signals the investors' anticipation of witnessing the platform's rapid growth and transformative impact on the credit card and travel sectors. As Scapia continues to innovate and disrupt the traditional models, it stands poised to play a pivotal role in shaping the future of travel and financial technology in India.
Stay updated with the latest in the startup world through our Startup News and Funding Alert. Sections. Explore Founder Profiles, Startup Profile, Founders Interview, Success Stories. In-depth Insights articles, Resources, and How to. Follow us on Facebook, Twitter, Instagram and LinkedIn for regular updates.
Note: We at
The Entrepreneur india
takes our ethics seriously. More information about it can be found
here
.