LeadSquared: Empowering Businesses with Intelligent Sales and Marketing Automation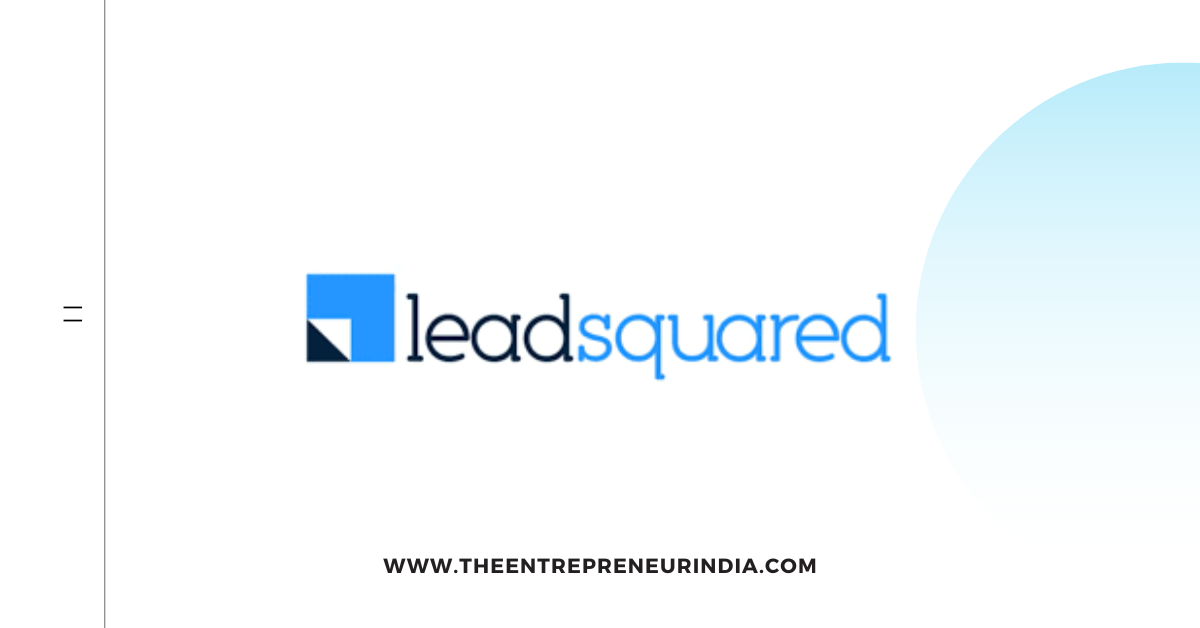 LeadSquared, an innovative Indian startup, is revolutionizing the sales and marketing industry through its intelligent automation platform. With a strong mission and a clear vision, LeadSquared aims to empower businesses by simplifying their sales and marketing processes, driving revenue growth, and delivering exceptional customer experiences. Since its inception, LeadSquared has rapidly grown into a market leader, offering a comprehensive suite of products and services tailored to meet the evolving needs of modern businesses.
Overview
| Category | LeadSquared |
| --- | --- |
| Description | LeadSquared is a comprehensive sales and marketing automation platform designed to help businesses generate, nurture, and convert leads into customers. It offers a range of features for lead management, email marketing, CRM, analytics, and more. |
| Key Features | Lead capturing and tracking, lead nurturing, lead scoring, email marketing, CRM integration, marketing automation, sales analytics, landing page builder, workflow automation, mobile app, API integrations. |
| Target Audience | Small to medium-sized businesses (SMBs) and enterprise-level organizations across various industries. |
| Benefits | Efficient lead management, improved lead conversion rates, streamlined marketing and sales processes, personalized customer engagement, data-driven insights for better decision-making, enhanced team collaboration. |
| Pricing | LeadSquared offers flexible pricing plans based on the specific requirements of each business. Pricing details can be obtained from their official website. |
| Deployment | Cloud-based (Software-as-a-Service) platform accessible via web browsers and mobile devices. |
| Integrations | CRM integrations (Salesforce, Microsoft Dynamics, Zoho CRM, etc.), email marketing integrations (MailChimp, SendGrid, etc.), third-party API integrations for custom integrations. |
| Customer Support | LeadSquared provides customer support through various channels, including email, phone, knowledge base, and community forums. They also offer training resources and documentation. |
| Company | LeadSquared is a software company headquartered in Bangalore, India. It was founded in 2011 and has grown to serve customers globally. |
Mission and Vision:
LeadSquared's mission is to enable businesses to effectively capture, nurture, and convert leads into loyal customers. By providing a powerful platform that combines automation, analytics, and personalization, LeadSquared empowers organizations to optimize their sales and marketing efforts, streamline workflows, and drive sustainable growth. The company's vision is to become the preferred choice for businesses seeking intelligent and data-driven sales and marketing solutions.
Key Products/Services:
LeadSquared offers a range of cutting-edge products and services designed to enhance sales and marketing effectiveness:
Lead Capture and Management: LeadSquared provides a comprehensive lead management system that allows businesses to capture, track, and nurture leads across multiple channels, including websites, landing pages, emails, and social media.
Marketing Automation: Through its marketing automation platform, LeadSquared enables businesses to automate their marketing campaigns, segment their audience, and deliver personalized messages at scale, resulting in higher conversion rates and improved ROI.
Sales CRM: LeadSquared's sales CRM equips sales teams with advanced tools to manage leads, track activities, streamline the sales pipeline, and close deals faster. It provides real-time insights and analytics to help sales professionals make data-driven decisions.
Analytics and Reporting: LeadSquared offers robust analytics and reporting capabilities, allowing businesses to gain valuable insights into their sales and marketing performance. These insights enable organizations to optimize their strategies and drive continuous improvement.
Unique Value Proposition:
LeadSquared stands out from its competitors with its unique value proposition:
Ease of Use: LeadSquared's platform is user-friendly and intuitive, making it accessible to businesses of all sizes. Its drag-and-drop interface, customizable workflows, and extensive integration options ensure a seamless user experience.
Intelligent Automation: The platform leverages advanced AI and machine learning algorithms to automate repetitive tasks, personalize customer interactions, and identify the most promising leads, enabling businesses to focus their efforts where it matters most.
Scalability and Flexibility: LeadSquared caters to the diverse needs of businesses, whether small startups or large enterprises. Its scalable infrastructure and modular approach allow organizations to tailor the platform to their specific requirements and accommodate future growth.
Target Market:
LeadSquared serves a wide range of industries, including real estate, education, financial services, healthcare, travel, and e-commerce. Its solutions are particularly valuable for businesses that rely on lead generation, customer engagement, and sales conversions.
Notable Achievements:
LeadSquared's journey has been marked by significant achievements:
Rapid Growth: Since its establishment in 2011, LeadSquared has experienced impressive growth, expanding its customer base across India and the globe. Its solutions are trusted by thousands of businesses, ranging from startups to well-established enterprises.
Industry Recognition: LeadSquared's innovative approach has garnered recognition from industry experts. It has received numerous awards and accolades, including being named as a leader in the G2 Grid for Sales Automation and Marketing Automation.
Founding Story, Team, and Company Culture:
LeadSquared was founded in 2011 by Nilesh Patel and Sudhakar Gorti, with a vision to transform the way businesses manage their sales and marketing processes. With a shared passion for technology and entrepreneurship, the founders built a talented team of engineers, marketers, and business professionals who were dedicated to creating a world-class product.
LeadSquared fosters a culture of innovation, collaboration, and customer-centricity. The company values employee empowerment and invests in ongoing training and development programs. The team is driven by a shared commitment to excellence, pushing boundaries, and delivering exceptional value to their customers.
Growth Trajectory, Funding, Partnerships, and Future Plans:
LeadSquared has experienced consistent growth since its inception. The company has attracted significant funding from prominent investors, enabling it to expand its product offerings, strengthen its technology infrastructure, and drive market penetration.
LeadSquared has established strategic partnerships with leading technology providers, including Salesforce, Microsoft, and Google, enhancing its platform's capabilities and integration options. These collaborations enable seamless data flow and interoperability, providing customers with a comprehensive ecosystem of tools and services.
Looking ahead, LeadSquared aims to further expand its global presence, strengthen its position as an industry leader, and continuously innovate its platform. The company plans to invest in research and development to leverage emerging technologies such as artificial intelligence, predictive analytics, and machine learning, ensuring its customers stay ahead in the rapidly evolving digital landscape.
Revolutionizing the Industry and Making a Significant Impact:
LeadSquared's intelligent sales and marketing automation platform has the potential to revolutionize the way businesses operate, enabling them to achieve higher efficiency, productivity, and revenue growth. By leveraging automation, personalization, and analytics, LeadSquared empowers organizations to make data-driven decisions, deliver exceptional customer experiences, and stay ahead in today's highly competitive market.
With its innovative solutions, customer-centric approach, and relentless pursuit of excellence, LeadSquared is poised to make a significant impact in the sales and marketing industry, empowering businesses across the globe to achieve sustainable growth and success.
FAQ's
What is LeadSquared?
LeadSquared is a customer acquisition and engagement platform that helps businesses streamline their sales and marketing processes, generate leads, and convert them into customers. It provides tools for lead management, marketing automation, sales force automation, and analytics.
How does LeadSquared work?
LeadSquared integrates with various marketing and sales channels, such as websites, landing pages, social media platforms, and email campaigns, to capture leads. It then enables businesses to track and nurture those leads through automated workflows and personalized communication until they are ready for sales engagement.
What features does LeadSquared offer?
LeadSquared offers a range of features, including lead capture and tracking, lead nurturing and scoring, email marketing automation, CRM (Customer Relationship Management) integration, sales tracking and forecasting, analytics and reporting, mobile access, and more.
Can LeadSquared integrate with other tools and platforms?
Yes, LeadSquared provides integrations with popular CRM systems like Salesforce, Microsoft Dynamics CRM, and Zoho CRM. It also integrates with email marketing platforms, marketing automation tools, web analytics solutions, and various other business applications through APIs and pre-built connectors.
Is LeadSquared suitable for my business?
LeadSquared caters to businesses of all sizes, from small startups to large enterprises, across various industries. It is especially beneficial for businesses that rely heavily on lead generation, marketing campaigns, and sales processes to acquire and retain customers.
How secure is LeadSquared?
LeadSquared follows industry-standard security practices to protect customer data. It employs measures like data encryption, access controls, regular security audits, and backups to ensure the confidentiality and integrity of the information stored within the platform.
Does LeadSquared provide customer support?
Yes, LeadSquared offers customer support through various channels, including email, phone, and live chat. They have a support team that can assist with any technical or operational queries you may have.
What is the pricing structure for LeadSquared?
LeadSquared offers different pricing plans based on the specific needs of businesses. The pricing typically depends on factors such as the number of users, features required, and the scale of your operations. It's best to contact LeadSquared directly or visit their website to get accurate pricing information.
Does LeadSquared offer a free trial?
Yes, LeadSquared provides a free trial period, allowing businesses to explore the platform and evaluate its suitability before making a purchase decision. The trial period's duration may vary, so it's advisable to check with LeadSquared for the most up-to-date information.
Can LeadSquared be customized to fit my business requirements?
LeadSquared offers customization options to tailor the platform to your specific business needs. This can include custom fields, workflows, automation rules, and branding. However, the extent of customization may depend on the pricing plan you choose.
Also read
India's Burgeoning Unicorn Club: A Growing List of 108 Promising Startups