Former Indian Cricketer Sourav Ganguly Partners with JustMyRoots, Fueling Growth in Food Delivery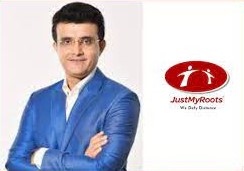 Kolkata, July 8, 2023 – Sourav Ganguly, the iconic former cricketer and current president of the Board of Control for Cricket in India (BCCI), has set his sights on the startup world with a strategic investment in the food delivery platform, JustMyRoots. Ganguly's entry into the startup ecosystem demonstrates his keen interest in fostering innovative ventures within the food industry, leveraging his influence and expertise to propel growth and success.
Ganguly's decision to invest in JustMyRoots marks a significant milestone in his entrepreneurial journey, as he seeks to actively contribute to the platform's upward trajectory by offering invaluable insights and guidance. This move not only underscores his enthusiasm for entrepreneurship but also reflects his belief in the potential of JustMyRoots to disrupt the food delivery sector.
The former cricketer's investment in JustMyRoots aligns perfectly with his commitment to supporting food entrepreneurs and nurturing innovation within the culinary space. By forging a partnership with the startup, Ganguly aims to create an ecosystem where aspiring entrepreneurs can flourish and revolutionize the way food is prepared, delivered, and experienced.
What sets JustMyRoots apart in the competitive food delivery market is its unique value proposition. The platform takes pride in offering a diverse selection of regional and traditional Indian delicacies meticulously prepared by talented home chefs. By celebrating the rich culinary heritage of India, JustMyRoots provides a platform for these skilled home cooks to showcase their talents. Ganguly's investment in JustMyRoots acknowledges the potential of this distinctive value proposition and recognizes the growing demand among consumers for authentic, homemade food.
In addition to the financial support, Ganguly brings his extensive network, industry knowledge, and leadership experience to the table. As a cricketing legend and influential personality, his association with JustMyRoots is expected to unlock a multitude of opportunities, including strategic partnerships, brand collaborations, and increased visibility. Ganguly's backing is poised to accelerate JustMyRoots' expansion plans and further its mission to delight customers with a diverse range of flavorsome culinary experiences.
Sourav Ganguly's strategic investment in JustMyRoots represents a compelling union of sports and entrepreneurship, illustrating how esteemed personalities like Ganguly actively shape and support the startup landscape. With Ganguly's involvement, JustMyRoots is poised to make significant strides in the fiercely competitive food delivery industry, catering to discerning customers who crave authentic regional flavors. This partnership between Ganguly and JustMyRoots exemplifies the power of collaboration, as two domains—cricket and food delivery—converge to drive innovation and create a remarkable impact in the business world.
Stay updated with the latest in the startup world through our Startup News and Funding Alert. Sections. Explore Founder Profiles, Startup Profile, Founders Interview, Success Stories. In-depth Insights articles, Resources, and How to. Follow us on Facebook, Twitter, Instagram and LinkedIn for regular updates.
Note: We at
The Entrepreneur india
takes our ethics seriously. More information about it can be found
here
.