RevSure.AI Secures $10 Million in Funding to Revolutionize Sales and Marketing with AI-driven Insights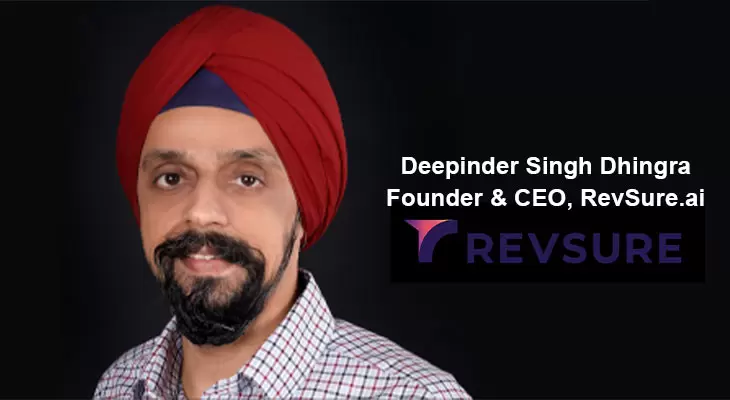 "Discuss the recent funding success of RevSure.AI, a sales and marketing-focused AI startup, and explore how its innovative platform is set to reshape the landscape of revenue growth and pipeline management for B2B companies."
RevSure.AI, an emerging AI startup specializing in sales and marketing, has successfully secured $10 million (Rs 82.5 crore) in a seed funding round. The funding was co-led by Neotribe Ventures and Innovation Endeavors, with Operator Collective and Correlation Ventures also joining as participants.
The company plans to allocate the newly raised capital towards crucial areas such as product development, talent acquisition, and expanding its customer base. RevSure.AI, founded by Deepinder Singh Dhingra in 2021, offers valuable insights to business-to-business (B2B) enterprises regarding the health of their sales pipelines and assists in determining the most effective marketing investments.
By leveraging its innovative platform, RevSure.AI empowers B2B software-as-a-service (SaaS) companies to mitigate uncertainties surrounding revenue growth. The startup enables marketing, revenue, sales, and leadership teams to forecast, generate, and accelerate their pipelines, ultimately driving success. Renowned clients such as Zeotap, BigID, and SnapLogic have already embraced RevSure.AI's solutions.
Deepinder Singh Dhingra, the Founder of RevSure.AI, emphasized the significance of pipeline health in ensuring predictable and profitable revenue growth, particularly in the current economic climate. By integrating AI-based predictive insights into pipeline effectiveness and health, companies can prioritize predictability, revenue acceleration, and the enhancement of overall efficiency and quality.
RevSure.AI's achievement is part of a broader trend, with an increasing number of AI-based startups gaining traction in various sectors, including finance, healthcare, and data analysis. The recent news of Microsoft's staggering $10 billion investment in OpenAI, the mastermind behind ChatGPT, has further fueled the AI frenzy.
In a similar vein, Course5 Intelligence, a Mumbai-based data analytics and AI startup, successfully raised $28 million from 360 ONE Asset Management. Jarvis, another AI-driven investment platform based in Mumbai, also secured undisclosed funding from Bestvantage Investments and Hem Securities Ltd to bolster its technology stack and expand its user base.
This surge in funding for AI startups is reminiscent of the trend observed last September when Sigmoid, a data analytics startup, raised $12 million in a Series B round led by Sequoia India. The funding was primarily aimed at fueling market growth, expanding delivery centers, and penetrating newer industry segments.
The thriving AI landscape reflects the immense potential and growing confidence in artificial intelligence as a transformative technology. As more investors recognize the value and impact of AI-driven solutions, startups like RevSure.AI are well-positioned to shape the future of sales and marketing, driving innovation and success in the digital era.
By providing valuable insights into pipeline generation health and offering predictive analytics, RevSure.AI empowers businesses to make informed decisions and prioritize marketing investments effectively. The successful track record of clients like Zeotap, BigID, and SnapLogic further underscores the value and impact of RevSure.AI's solutions.
The funding success of RevSure.AI is part of a broader trend in the AI startup landscape, with increasing investments being poured into innovative ventures across various industries. This surge in funding reflects the growing recognition of AI as a transformative technology and its potential to revolutionize traditional business practices.
As the AI revolution continues to unfold, startups like RevSure.AI are at the forefront, leveraging cutting-edge technology to drive predictability, revenue acceleration, and efficiency. With their visionary approach and dedicated focus on sales pipeline readiness, RevSure.AI is well-positioned to shape the future of sales and marketing, ultimately enabling businesses to thrive in the digital era.
Overall, the funding round's success serves as a testament to the market's confidence in RevSure.AI and its potential to make a profound impact in the sales and marketing domain. As RevSure.AI continues its journey, it is poised to transform the way businesses approach revenue growth, embrace AI-driven insights, and unlock new levels of success.