Eruditus: Empowering Professionals Worldwide with High-Quality Education for Career Advancement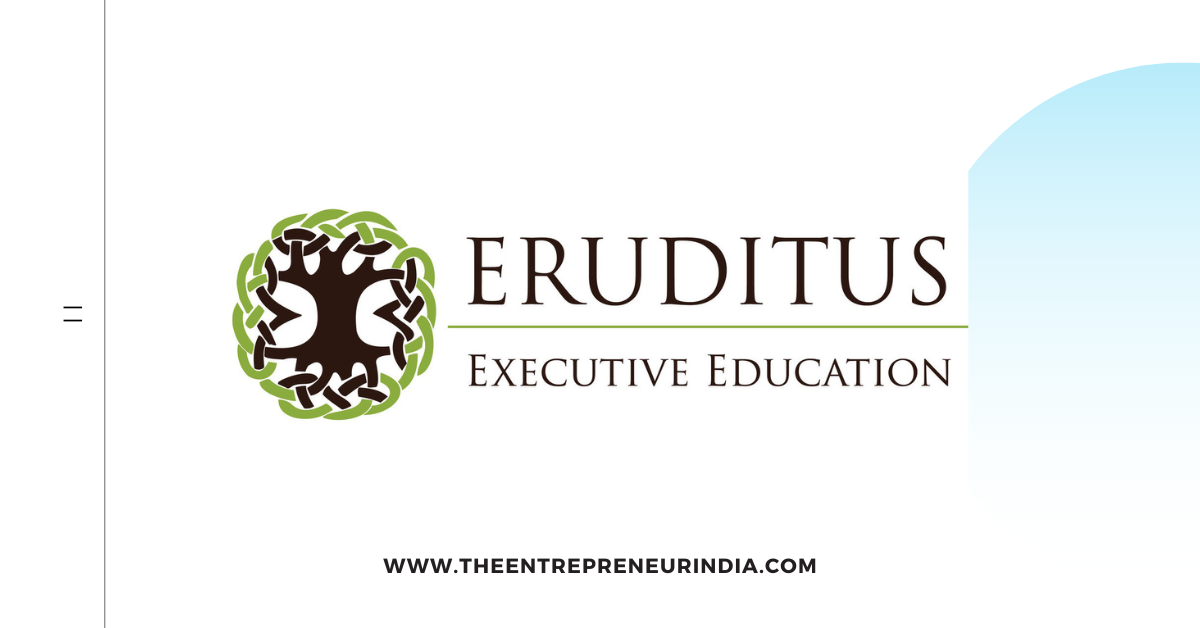 Eruditus is an Indian startup that has rapidly emerged as a leader in the edtech industry, revolutionizing the way professionals and executives access high-quality education. Founded in 2010, Eruditus is driven by a mission to make high-quality education accessible and affordable to individuals worldwide. By partnering with top-tier universities and institutions, Eruditus offers a range of professional development programs, online courses, and executive education, enabling professionals to upskill, acquire new knowledge, and advance their careers.
Overview
| Name | Eruditus |
| --- | --- |
| Type | Private education technology and services company |
| Founded | 2010 |
| Headquarters | Mumbai, India |
| Founders | Chaitanya Kalipatnapu and Ashwin Damera |
| Industry | Education |
| Services | Professional education programs and courses |
| Partners | Collaborates with top-tier universities and institutions worldwide |
| Programs Offered | Executive education, certificate courses, online learning |
| Global Reach | Operates in multiple countries including India, United States, Singapore, Dubai, and more |
| Alumni | Over 40,000 professionals and executives trained |
| Key Features | Industry-focused curriculum, experienced faculty, online and blended learning, flexible scheduling |
| Website | www.eruditus.com |
Mission and Vision:
Eruditus' mission is to provide transformational education experiences that empower professionals to excel in their careers and make a positive impact on society. They envision a world where everyone has access to education that helps them unlock their full potential, regardless of geographical location or socio-economic background.
Key Products and Services:
Eruditus collaborates with renowned global institutions, including Ivy League universities such as Harvard, Columbia, and MIT, as well as other prestigious institutions like INSEAD and London Business School. Through these partnerships, Eruditus offers a diverse portfolio of programs that cater to professionals across various industries. Their key products and services include:
Executive Education: Eruditus provides executive education programs designed for mid-career professionals and executives. These programs cover a wide range of subjects, such as leadership, management, finance, marketing, and data analytics. Participants gain invaluable insights from world-class faculty and industry experts.
Professional Development Programs: Eruditus offers professional development courses that address specific skill gaps and emerging trends in industries like technology, finance, healthcare, and entrepreneurship. These short-term programs are designed to provide practical knowledge and enhance career prospects.
Online Courses: Eruditus leverages cutting-edge technology to deliver online courses, enabling professionals to access high-quality education from anywhere in the world. These courses combine interactive learning tools, video lectures, and collaborative assignments to create an immersive educational experience.
Unique Value Proposition:
Eruditus differentiates itself through several key factors:
Academic Excellence: By partnering with top-tier institutions, Eruditus ensures that participants receive world-class education from renowned faculty members and industry experts.
Industry Relevance: Eruditus designs its programs in collaboration with industry leaders to ensure they address current market demands, emerging trends, and the needs of professionals seeking career advancement.
Flexible Learning Formats: Whether through in-person classes, online courses, or blended learning experiences, Eruditus offers flexible options to accommodate the diverse needs and schedules of working professionals.
Global Network: Eruditus provides participants with access to a vast network of peers, industry leaders, and alumni from prestigious institutions, fostering valuable connections and opportunities for collaboration.
Target Market:
Eruditus primarily targets professionals and executives seeking to enhance their skills, knowledge, and career prospects. Their programs attract individuals from diverse industries and backgrounds, including technology, finance, healthcare, consulting, and entrepreneurship. The company serves a global audience, with participants hailing from over 80 countries.
Notable Achievements:
Since its inception, Eruditus has achieved significant milestones:
Rapid Growth: Eruditus has experienced remarkable growth, expanding its program offerings, partnerships, and participant base. The company has established a strong presence in key markets worldwide.
Recognition and Awards: Eruditus has been recognized by esteemed industry bodies and publications. It has received accolades such as the 'EdTech Company of the Year' and has been featured on prestigious lists like the Fast Company's 'Most Innovative Companies.'
Founding Story, Team, and Company Culture:
Eruditus was founded in 2010 by Chaitanya Kalipatnapu and Ashwin Damera. Both founders were inspired to bridge the gap between traditional higher education and the needs of professionals seeking continuous learning opportunities. Today, Eruditus boasts a diverse team comprising experienced professionals from academia, technology, and business domains. The team's collective vision, passion for education, and commitment to excellence drive the company's success.
Eruditus fosters a culture of collaboration, innovation, and continuous learning. The company values diversity, encourages a growth mindset, and nurtures an environment where employees can thrive and contribute to the organization's goals.
Growth Trajectory, Funding, Partnerships, and Future Plans:
Eruditus has experienced remarkable growth, expanding its presence globally and forging strategic partnerships. The company has successfully raised substantial funding from renowned investors, enabling it to scale its operations and reach a wider audience. Notable investors include Sequoia Capital, Chan Zuckerberg Initiative, and Ved Capital.
Eruditus has formed partnerships with esteemed universities and institutions, establishing a robust network of academic collaborators. These collaborations contribute to the company's credibility, ensuring the delivery of high-quality educational programs.
Looking ahead, Eruditus aims to continue expanding its program offerings, reach more professionals worldwide, and deepen its engagement with corporate partners. The company plans to leverage emerging technologies, such as artificial intelligence and immersive learning, to enhance the learning experience further.
Eruditus has emerged as a pioneering force in the edtech industry, empowering professionals to access high-quality education and accelerate their careers. Through its strategic partnerships, diverse program portfolio, and commitment to academic excellence, Eruditus is revolutionizing the way professionals upskill and acquire new knowledge. With its rapid growth trajectory, strong financial backing, and focus on innovation, Eruditus is poised to make a significant impact in the market and shape the future of global education.
FAQ's
What is Eruditus?
Eruditus is a leading global education company that partners with top universities and institutions to offer online and executive education programs.
Which universities and institutions does Eruditus partner with?
Eruditus has partnerships with several renowned universities and institutions around the world, including MIT Sloan, Columbia Business School, Harvard Business School, Wharton School, and INSEAD, among others.
What types of programs does Eruditus offer?
Eruditus offers a wide range of programs, including online courses, executive education programs, bootcamps, and blended learning experiences. These programs cover various fields such as business, management, leadership, data science, artificial intelligence, digital marketing, and more.
Are Eruditus programs accredited?
Eruditus partners with prestigious universities and institutions that provide accreditation for their programs. However, it's important to note that the accreditation status may vary depending on the specific program and institution.
Who can enroll in Eruditus programs?
Eruditus programs cater to a diverse audience, including working professionals, executives, entrepreneurs, and lifelong learners. Some programs may have specific eligibility criteria, prerequisites, or recommended work experience.
How are Eruditus programs delivered?
Eruditus programs are delivered through a combination of online and offline formats. Online programs typically consist of video lectures, interactive learning modules, case studies, group discussions, and assignments. Some programs may also include in-person components like workshops, bootcamps, or on-campus sessions, depending on the program design.
How long do Eruditus programs typically last?
The duration of Eruditus programs can vary depending on the program type and content. Some programs are designed to be completed in a few weeks, while others may extend over several months or even a year, especially for executive education programs.
What is the teaching approach in Eruditus programs?
Eruditus programs employ a learner-centered approach that combines theoretical knowledge with practical application. Faculty members from partner institutions often deliver the programs and utilize a mix of lectures, case studies, real-world examples, and interactive activities to facilitate learning.
Can I earn a degree through Eruditus programs?
Eruditus primarily focuses on offering non-degree executive education and professional development programs. While some programs may provide certificates of completion or professional certifications, they generally do not lead to a full academic degree.
How can I apply for an Eruditus program?
To apply for an Eruditus program, you typically need to visit the Eruditus website, select the program you're interested in, and follow the application instructions provided. The specific application process may vary depending on the program, and there may be prerequisites or requirements to fulfill.
Also read
India's Burgeoning Unicorn Club: A Growing List of 108 Promising Startups