Battery Smart Secures $33 Million in Funding to Accelerate Expansion Plans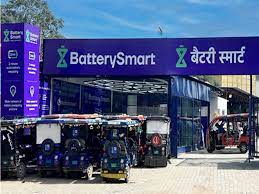 Battery Smart, a leading battery swapping network based in Delhi, has successfully raised $33 million (approximately Rs 272 crore) in a pre-Series B funding round. The funding was contributed by existing investors Tiger Global and Blume Ventures, along with new investors The Ecosystem Integrity Fund and British International Investment. The significant investment infusion will be utilized to expand the company's geographical presence and broaden its customer base, aiming to reach one lakh customers by 2025.
Battery Smart's current customer base spans Tier I, II, and III cities, with an existing network of 25,000 customers. With the newfound capital, the company seeks to extend its services and make electric mobility more accessible throughout India.
Pulkit Khurana, Co-founder and CEO of Battery Smart, expressed enthusiasm about the recent investment, stating, "This investment signifies our commitment to enhancing the livelihoods of our station partners and drivers, empowering them to play a significant role in India's transition towards electric mobility." Khurana highlighted the company's dedication to supporting station partners and drivers, recognizing their pivotal role in driving the adoption of electric vehicles in India.
Devin Whatley, Managing Partner of The Ecosystem Integrity Fund, also expressed excitement about the partnership with Battery Smart, emphasizing the company's innovative business model and impressive sustainable growth. Whatley's statement reflected the investor's confidence in Battery Smart's potential to drive positive change in India's electric mobility landscape.
Battery Smart operates as a battery swapping network, offering a convenient and efficient solution for electric vehicle owners. By providing a network of charging stations where users can easily exchange depleted batteries for fully charged ones, Battery Smart eliminates the need for lengthy charging times and supports uninterrupted mobility for electric vehicle users. The company's business model has garnered attention for its innovative approach to address the challenges of EV adoption in India.
With the latest funding round, Battery Smart aims to strengthen its market presence and expand its operations into new territories. The company's vision aligns with the Indian government's efforts to promote sustainable transportation and reduce carbon emissions. By offering an accessible and reliable battery swapping service, Battery Smart aims to play a crucial role in India's ongoing transition to electric mobility.
As Battery Smart paves the way for increased adoption of electric vehicles, the company's expansion plans, supported by the substantial investment, demonstrate a promising future for the growth of sustainable transportation in India.
Stay updated with the latest in the startup world through our Startup News and Funding Alert. Sections. Explore Founder Profiles, Startup Profile, Founders Interview, Success Stories. In-depth Insights articles, Resources, and How to. Follow us on Facebook, Twitter, Instagram and LinkedIn for regular updates.
Note: We at
The Entrepreneur india
takes our ethics seriously. More information about it can be found
here
.